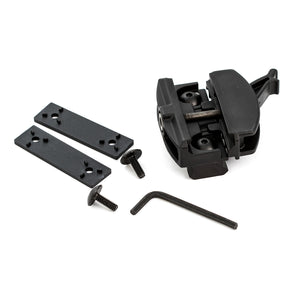 Rogers Quick Release Optical Sight Mount
The Rogers Sight Mount (RSM) is a versatile, quick-detach mount for any Red-Dot optics with a picatinny rail attachment. The RSM allows the user to quickly detach and reattach their optic without the need for cumbersome fasteners or tools. The RSM is a rock-solid and precision mount. A user can remove their RSM mounted optic, reinstall it, and expect their Red-Dot to be in the same position. The RSM also allows the user to co-witness to their iron sights. Included are 2 shims to allow the user to easily adjust the height of their optic in relation to their iron sights.
The Rogers Sight Mount boasts the following features:
The parallel clamping members of the Rogers Sight Mount (RSM) are molded with a slight bias in the shape of a bow. This allows the force of the single cross bolt to be distributed evenly over the entire engagement of the weapon's rail. This design provides a much better clamp using less force.
The lever operated locking cam of the RSM, unlike the competitor's products, locks on top dead center of the cam. Most designs require the throw lever to go over center in order to lock. Locking force is lost by going over center so conventional mounts must be adjusted over tight in order to not shoot loose when the lever goes over center. The RSM uses an alternative lock system that allows the lever to lock at the highest point on the cam. The result is a better lock up with less force which reduces wear and tear of the part and is easier to operate.
The RSM uses a glass filled polymer similar to modern pistol frames. The glass filled material has a much greater coefficient of friction while locking to a metal rail. It also has the ability to custom form to any slight imperfections in the metal rail of the weapon. The end result is a mount that does not shoot loose and will repeat zero when removed and reinstalled as long as it is returned to the same position on the weapon rail.
---