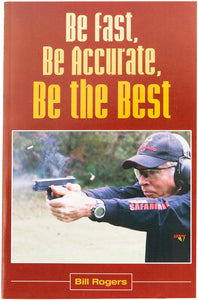 Be Fast, Be Accurate, Be The Best Paperback by: Bill Rogers
In this book, Bill shares his life experiences to bring the readers into the world of Reactive Shooting. He then takes them through a step by step program to make them safer and more competent gun handlers, as well as giving them the skills to survive a real life battle.
This book is a must read for anyone who carries a firearm and especially for those responsible for administrating or training others in the skills of combat shooting. Bill Rogers is a former FBI Agent. He invented the first Kydex holster in 1972. He started the Rogers Holster Company in 1973, purchased by Safariland in 1985. To This day he continues to develop cutting edge technologies for the shooting industry. In 1975 he established the Rogers Shooting School which quickly earned the reputation as "The Shooting School" for operators of special military units. It still maintains that reputation after 35 years of operation.
---